Freshly published, Triangular μOS is a graphical GUI including disk tools, apps and games for the 24K expanded VIC-20. Here is my test run.
We are accustomed to the welcoming READY. prompt of the basic, but what if the Commodore VIC-20 would boot up like modern PCs do? This seems what Triangular μOS is meant to do: fill a generational gap and provide a sort of point-and click environment to perform basic tasks, with the option to switch to the ordinary BASIC environment.
The OS comes in a prepackaged .d64 diskette image that you can download here, zipped together with the PDF documentation and a blank diskette image for storing your work. This test is made on version 1.19.
Running it on the emulator
In order to test it, I attached the diskette image to the number "8" drive of the emulator by pressing Alt-8, then I ran it using the ordinary LOAD"*",8 and RUN.
After a splash screen, you have can optionally switch to a sort of general configuration of the environment, useful for specifying which diskette drive contains the OS diskette and which one is the "work" drive, that is contains a formatted diskette for storing your work. Here, I attached the blank diskette image to drive with device number 9 with Alt-9 before proceeding.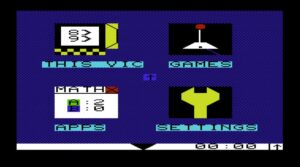 The the graphical GUI starts and yu are presented with widgets containing all the package has to offer: A command tool, apps, games and the settings panel.
Apps – will bring you to a set of tools such as Math, a scientific calculator, a Word Processor, an assembly Monitor, a simple Synth for producing sounds.
This VIC – will provide a screen for customizing disk drives numbers, environment colors and system time.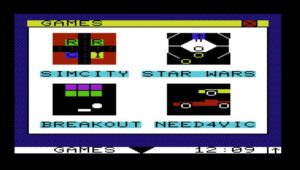 Games – will offer four games: Star Wars, Breakout, Sim City and a Race game. To me, Sim City was the most interesting, even though I could not play it much yet, I feel like I want to try it again later.
Conclusions
TRIANGULAR μOS looks like well packaged and nice to try out. An option to run programs installed in the "work" drive it would be a great addition, unless you are happy with the few options available from the OS disk.
This package would have been handy to have in a cartridge in order to show up at power on, more or less like the graphical GUI of the penultimate cartridge does.
Anyway, it was nice to see the VIC-20 reinterpreted as a new generation platform.
You can check out a whole test video below.